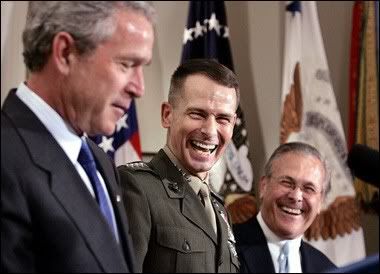 GOP Karaoke, Part I: Unbeknownst to Secretary
Rumsfeld and General Pace, their good-natured ribbing
at Bush's overly earnest "Wind Beneath My Wings" cuts
the President right to his very core.
Not pictured: Bush crying himself to sleep, once again.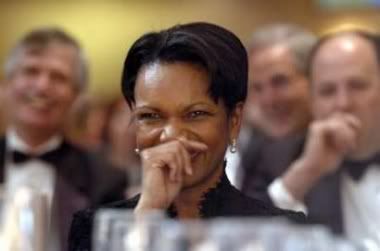 GOP Karaoke, Part II:
Forced to pretend that the President farting the
"Star Spangled Banner" is still funny after all
these years, Secretary Rice nonetheless regrets
her suggestion of deviled eggs as an appetizer.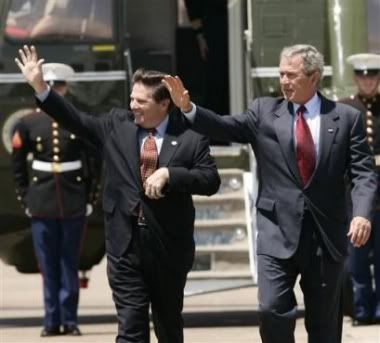 GOP Karaoke, Part III:
Bush and DeLay are so enamored with their rendition
of "Stop! In the Name of Love," they decide to
take it on the road.
Not pictured: Their decidedly less popular "You
Just Keep Me Hangin' On," dedicated to the fine
folks at Guantanamo Bay.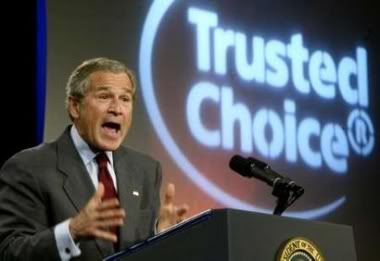 GOP Karaoke, Part IV:
While his James Brown medley was rather enthusiastic,
one had to question the pedestrian nature of the
President's light show.
GOP Karaoke, Part V:
Bush's sultry "Let's Get It On" to the widow at
her husband's funeral? Inappropriate!
GOP Karaoke, Part VI:
"Someone left her cake out in the rain . . ."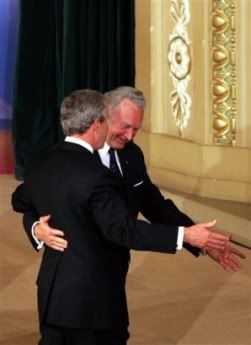 GOP Karaoke, Part VII:
Estonian President Arnold Ruutel knew that if
he got Bush to drink enough Sangria, he could
get that slow dance to "Endless Love" that he'd
been waiting for.